Andreas Osterwalder and Joseph Osterwalder are medical brothers from the European country of Switzerland. Since 1999 they have maintained an altruistic link with the Faustino Pérez de Matanzas Clinical Surgical Provincial Hospital.
The surgeon Andreas met Dr. Oscar Garcia at the end of the 20th century. In those years, the doctor from Matanzas began the first steps in laparoscopic surgeries.
The difficulties in securing the instruments and technology necessary for minimal access interventions led García to request the support of the European doctor.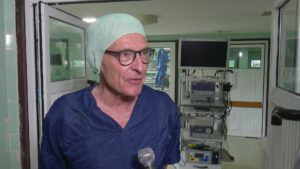 "In 2001, a representation of the Swiss Association of Laparoscopic Surgery arrived in Matanzas with the materials for the operations", Andreas reports.

"Since 2001 we have kept in touch. We have been able to see that the level of Cuban medicine is very high, what is lacking material. We in Switzerland have a lot of material, perhaps our level of development in medicine is not as high, at certain points like here." Confess the emergency specialist Joseph.
On this occasion, the brothers donated through the solidarity organization MediCuba, a tower for minimally invasive surgery and a portable ultrasound equipment.
Professor García describes the support of his Swiss friends as very valuable. "There have been many years of important help, the towers for minimally invasive surgeries are extremely expensive."
There are 24 years of Swiss collaboration in the hospital. During that time, three Cuban surgeons received intensive courses on advanced surgery at important academic institutions in Europe.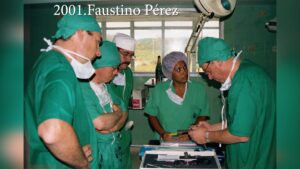 When asking Andreas Ostewalder, a professor at the University of Geneva: Why do you help Cuba? The Cuban doctors are really competent, the help is well used, which is important".
The surgical team of the Faustino Pérez Hospital, founded in 1996, has performed around 12,000 minimal access surgeries, a good part of them bear the imprint of Joseph and Andreas, two kind doctors from Switzerland. (ALH)
Ernesto Arturo Santana García del Busto
Translated by Casterman Medina de Leon