The president of the republic of Cuba and first secretary of the Communist Party of Cuba Diaz Canel, participated this Sunday in the National elections of the country.
The leader went to the district number 44 of Santa Clara, his born city, were deposit his vote in a urn.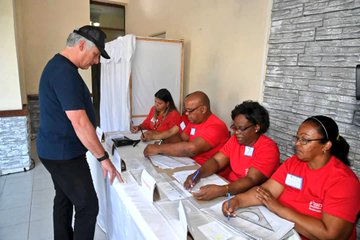 Before entering the polling station, Díaz Canel spoke with some young people who expressed their support and confidence in the Cuban democratic process.
He said that the candidates have had the opportunity to dialogue with the people about the challenges that Cuba faces in the face of the economic blockade and the unfair inclusion on the list of countries that sponsor terrorism.
Affirmed that the National Assemble must to change the system of work to make more easy the interchanged with the people and keep going in the legislative agenda, also expressed his trust that the Cuban people is defended the future, the homeland and the unit of the revolution with their vote conscious and optimistic.
In statements to the press, the president highlighted the diversity and representativeness of the candidacy that was presented to Parliament.
"In this candidacy, all sectors are also highly represented and the majority are women, that is important because it allows us to have a better representation of the social fabric of the country," he said.
Likewise, the Cuban president called for the participation and debate of the proposals that have been generated in the tours he has made throughout the national territory. "Now we are summoned to know the opinions resulting from what we have discussed… I have a lot of confidence in the Cuban people," he said.
The president also referred to the challenges facing the country in the economic and social sphere, and reiterated his rejection of any external interference that seeks to undermine the sovereignty and independence of Cuba.
"Some may put the economic situation first, but most people know that despite the difficult economic situation it is working together, if we were once again a colony of the United States, the problems would only increase, if everything were privatized, What was the future of young people?" he questioned.
Finally, the Cuban president pointed the priorities of his government are get trough the economic crisis, push the legislative exercise and give continue to the demands of the population "There is not solution to all but some have solution", concluded. (ALH)
Translated by Casterman Medina de Leon