On November 5, Cuba commemorates the beginning of Operation Carlota, through which our country collaborated in the struggle for the independence of the current Republic of Angola and other South African nations.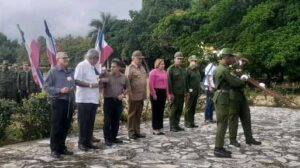 The name Carlota alludes to the black slave who led the slave uprising of the Triunvirato sugar mill in Matanzas. That is one of the most valuable precedents in the history of rebellion in our country, and from that place tribute was paid this Sunday.
On the occasion of the 180th anniversary of one of the most important uprisings in colonial history, the people of Matanzas paid tribute in an act of remembrance from the monumental complex that preserves African memory.
The date also marks the beginning of the internationalist operation in Angola 48 years ago, so an offering of flowers to those who fell in that feat showed the respect of the Cuban people.
The member of the Central Committee of the Party and Chief of the Central Army, Major General Andrés Laureano González Brito, attended the ceremony that illustrated the evolution of the struggles with Afro-Cuban songs and dances.
New members joined the political organizations of the UJC and the PCC, when they received the card that accredits them from the hands of the first secretary of the Party in the province, Susely Morfa González. The Association of Combatants swelled its ranks with new comrades who received membership and also the 30th anniversary seal granted by its national leadership.
The historical event of 1843 set the tone in the development of anti-slavery thought and established principles in the independence ideals of Cubans from the liberation wars, acknowledged in his words the deputy to the National Assembly and president of the Union of Historians of Cuba, Jorge Luis Aneiro Rodríguez.
From the ruins of the Matanzas sugar mill, the black drums sounded on November 5 once again, to allude to the transcendence of these indelible pages in the history of Cubanness. (ALH)
Translated by Casterman Medina de Leon