As part of the actions to promote the banking process in the province, through the How, When, Where Digital Payments campaign, entities of the banking system participated in the Second Business Fair of Economic Actors, convened by the Provincial Government that concluded in Matanzas.
In the space necessary to strengthen alliances and achieve new productive chains, the Banco de Crédito y Comercio and the Banco Popular de Ahorro,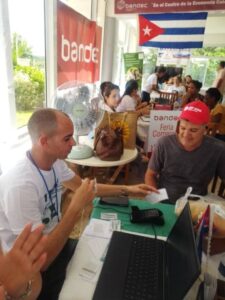 together with other entities such as Etecsa, Xetid, the Scientific and Technological Park, had a stand to advise attendees on basic procedures. which allows them to insert themselves into payment channels more easily.
Yanetsy Chávez Camaraza, provincial director of Bandec explained that taking advantage of the presence of the different economic actors, both state and private, the benefits of banking were explained to them based on their conditions so that they can access services to which they have not had access. .
"We also explained about access to bank credit, both for working capital and for investments, which is one of our fundamental services that these actors may find attractive for the performance of their businesses," added Chávez Camaraza.
For her part, Belkis Plasencia Cruz, provincial director of BPA, recognized that it was an important moment to advise, provide banking services, exchange with clients about their needs and, in addition, a good space to continue banking society.
As a culmination of this Fair, Bandec received the Communication Award, a recognition of the successful management of this entity in the communication sphere.
During the First Business Fair, the banking system held a fruitful exchange with its clients who were present and managed to insert economic actors into the use of electronic payment channels, an expectation that, without a doubt, they exceeded on this occasion. (ALH)
Translated by Casterman Medina de Leon